In early December. the Research Chefs Association Seattle Region held a caviar tasting sponsored by IFF at the Seattle Caviar Company, which is located on Eastlake Blvd.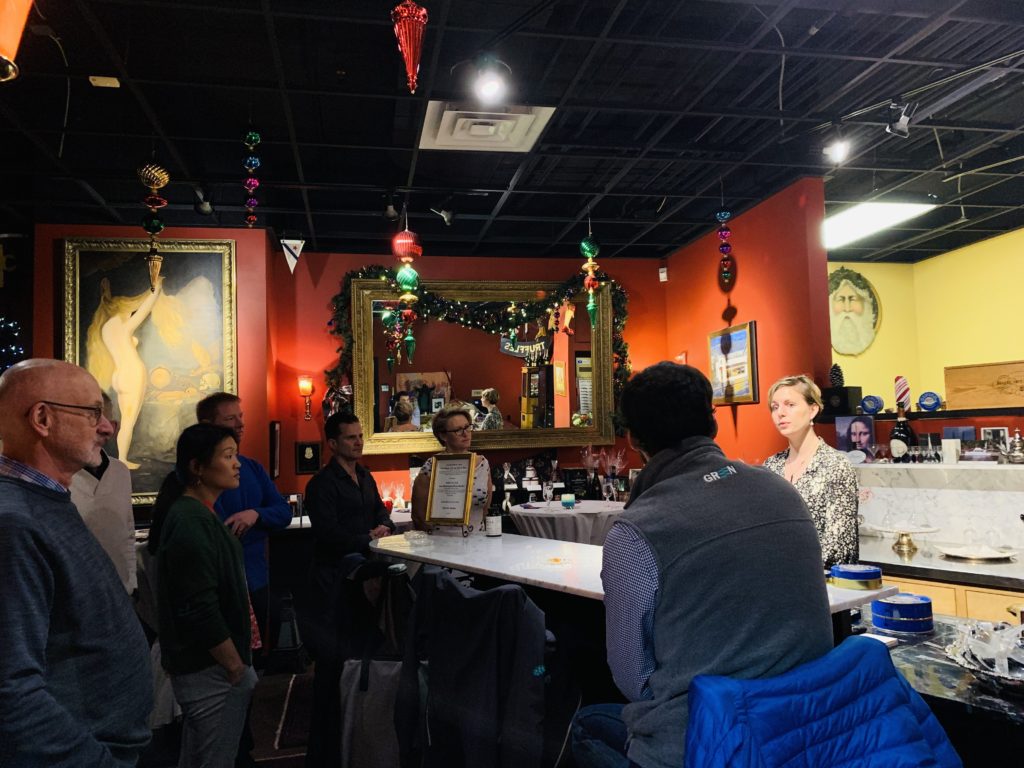 I had first heard of Seattle Caviar Company when I was cooking for the Tom Douglas Restaurants. We catered a major holiday event in Shoreline, WA, for a wealthy community member. There were multiple live demo stations, including a blini station with tins and tins of caviar. No kidding. I had never seen so many. I wasn't trusted to handle caviar – I was cracking crab claws in those days.
Kim Overstreet from IFF was the sponsor of the caviar event. International Flavors and Fragrances is a recognizable international brand that serves customers across the food service and manufacturing categories, from CPG to food services.
Trident Seafoods Senya Joerss presented on salmon egg (roe) harvest and gave an overview of the harvesting process. Then we were able to taste a few different grades of salmon roe to understand how the grading is conducted. I haven't had much opportunity to become a caviar expert, save the opportunity to enjoy some incredible caviar at Heritage Restaurant & Caviar Bar in Chicago, led by CBCI alumni chefs Shane Zimmerman and Guy W. Meikle.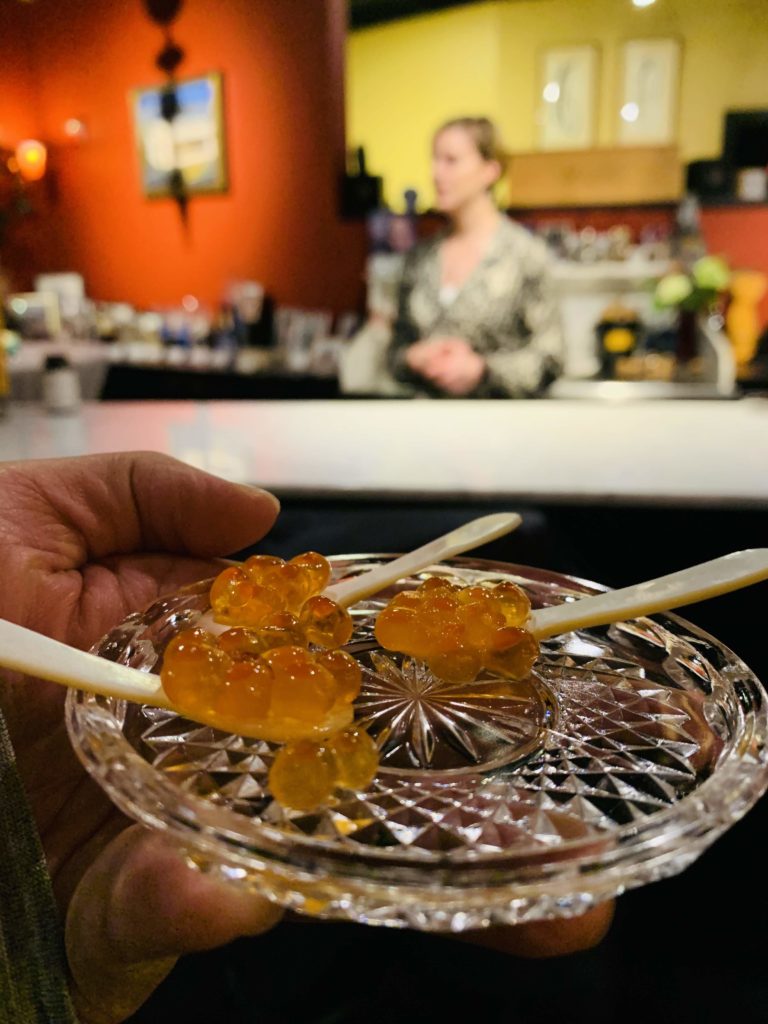 The Seattle Caviar Company team presented several types of caviar from different origins to help us identify differences among them. It sounds like heaven to be presented so many bites of caviar at a time, but it can also be fatiguing on the palate. The briny, savory intensity of each sample on the mother of pearl spoons were so varied, and it was thrilling to realize that we could detect differences very quickly.
Co-president of the RCA Seattle region Kate Elderkin and I were table partners, so we took our tasting very seriously. With a culinary background and over a year working as a contractor for Starbucks, Kate had an acute palate, sensory evaluation experience, and culinarian's vocabulary. That was fun, because we could describe and compare flavors we were detecting using the shared experiences in restaurants and the exposure to a variety of culinary ingredients.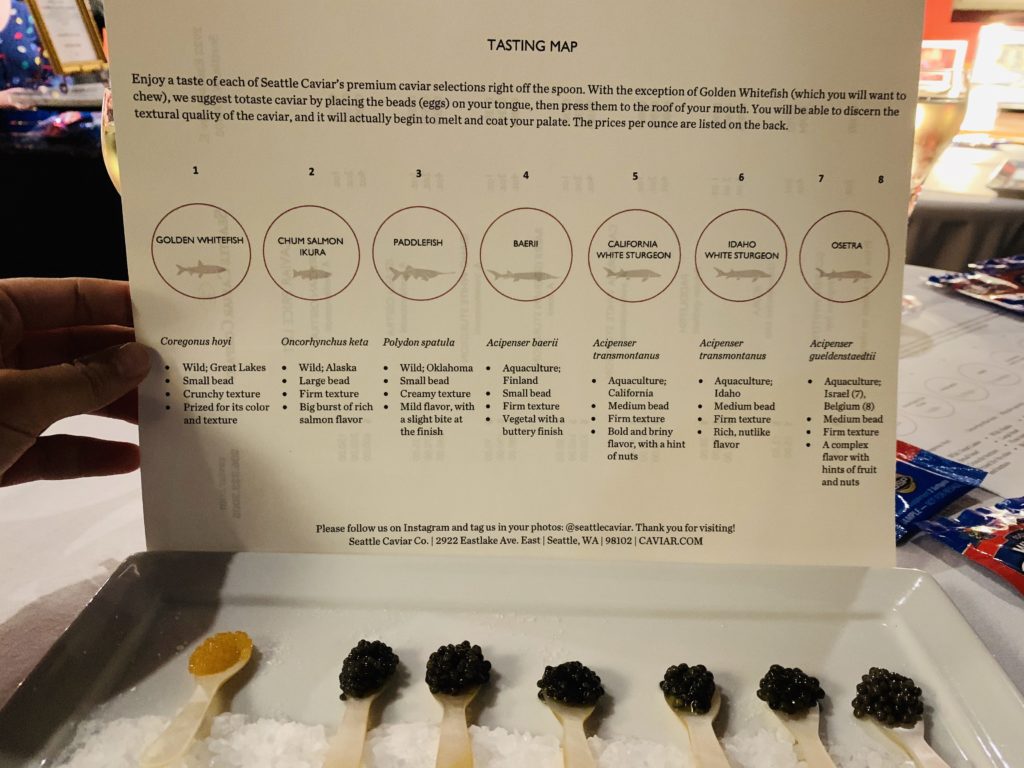 From specific types of salts and briny characteristics to different proteinaceous amino acid flavors were apparent. From Alaska to the Great Lakes, Finland, Oklahoma, and Israel, the terroir was readily evident in each sample. The types of caviar sourced from different fish species were also interesting, varying in the colors, sizes, and textures. Described as beads (versus eggs), the characteristics were firm and popping for some and tender and soft in others.
This holiday season event was great fun – a mix of socializing, education, and seasoning cheers. Corporate sponsorship for these events helps bring exposure to brands but also establishes the brand as being willing to move beyond the sales pitch and into value-added experiences. Kim Overstreet has also sponsored a rock climbing event, in which she spent only a few minutes sharing about IFF and a lot of time giving us a chance to chat with each other. Inevitably, we developers start to talk about the challenges we currently face, and this provides an opportunity to identify possible solutions that could be followed up at the next business meeting.
Sponsored regional events also help us stay connected throughout the rest of the year, keeping up the excitement from the conference. Though many of us get to meet at trade shows and conferences, it's usually with contacts who are distributed nationwide. These regional events help us connect with local peers, many of whom can be friends and mentors. I try to attend as many local events as I can, because this helps me build a close-knit network that I can reach to when I am stumped.
I've been involved with the RCA and IFT since 2012, and I still meet new faces. From the New Professionals events to the annual golf tournament, supplier shows, and networking gatherings, they're always worth my time. Sometimes I'll check to see if a contact is attending – someone whom I've missed for a while – and sometimes I'll attend without a plan (per se). I always come away with a few new connections and friends.
Would you consider contacting your local regional chair to set up an event for 2020?