Be part of the world's first research chef podcast!
1500 Downloads per episode
33,000 Total downloads
2500 social media follows, all platforms
2017 President's Award, RCA annual conference Featured Culinologist in Culinology Magazine
2018 Breakout session speaker, RCA annual conference Invited Media, IFT annual conference
2019, 2020 Media partner, American Food Innovate Summit
2019 RCA Conference Exploring Food Waste cooking competition judge
2019 Big Ideas Stage presenter, Summer Fancy Food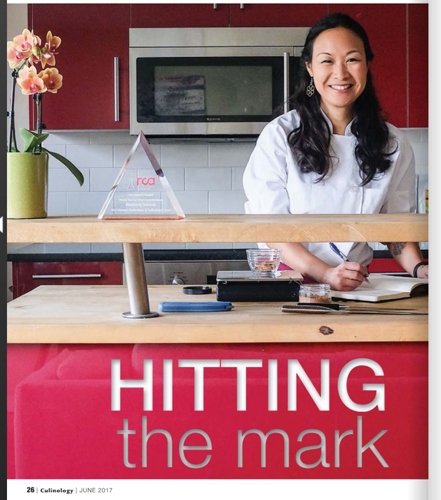 68 million podcast listeners (Entrepreneur Mag. 2018)
94 million fans on BuzzFeed's Tasty (NewsCred Marketing Insights)
$10 trillion in U.S. millennial generation lifetime buying power and leverage social media and web content to inform their food purchase decisions (PR NewsWire, 2018)
The millennial generation makes up 25% of the buyer population and is rapidly changing the industry and we must rise to meet its demands (Nielsen demographics, 2016)
RCA Culinology Insights – bi-monthly publication that pushes to 2000 member made of chefs, food science professionals, sales, marketing, and industry professionals from national companies, including big brands like Pepsi, Tyson, Ingredion, and Cargill, and early-stage brands like Bulletproof, Just, and
Regrained
The Culinologist Blog – distributed newsletter targeting early-career members
in the RCA and IFT organizations – 500 members
Blogs and podcasts, including FoodGrads, My Food Job Rocks!, and Food Heroes Podcast
We have right-sized sponsorship and advertisement packages for your business
One-time

and targeted promotions

Pre-roll and mid-roll

podcast episode ads

Feature

of sponsor page

Homepage

sidebar placement

Featured

articles and product use reviews

If you'd like to partner with the world's first research chef podcast, please contact us today!
Email: kimthechef@gmail.com  |  Website: www.peasonmoss.com/contact