The Specialty Food Association is a unique professional organization of brands that fit within the category of "specialty" with regard to their "
originality, authenticity, ethnic or cultural origin, specific processing, ingredients, limited supply, distinctive use, extraordinary packaging or specific channel of distribution or sale" (Specialty Food Association Membership Page). I first attended the show when I cooked for Sugar Mountain Guest Services and specifically did R&D for Beecher's Handmade Cheese. The brands you find there are typically sold in higher end and smaller grocery stores and are often considered luxuries… though they don't have to all be hoity-toity items. From rich, complex cheddar cheeses and crunchy, toasty crackers to velvety, sweet jams, and sharp and spicy craft liquors, you'll easily find indulgences to suit a variety of interests and luxuries.
A newer section for me was the Incubator Village space, where start-up businesses were able to show their products in a hall where presumably the cost to exhibit was shared across their start-up association. This is a great big growth from "incubator alley" where I have met some great entrepreneurs, and they were often very early stage in their food businesses. I always go to this section first, because I want to see what is going to be big at the large brands in another 9-18 months. The brands that survive and move from the "village" to their own booths are the ones that I really get excited to see.
This year, diet trends and upscaled items seemed to be the eye-catcher for me. Keto, Cold Brew, and Collagen were the themes.
Keto
From beverages to desserts, food products that supported the keto diet were definitely everywhere. Generally, it's higher fat, lower carb. It's also often higher protein, especially when it comes to meals and snacks.
A stand-out for me was Keto Pint, a crowd-funded brand that had some great flavors, including sea salt caramel and mint chip. I was impressed by how sweet the flavors were, given ingredient restrictions that usually accompany the trendy diet. Their ice cream contains cream, milk, and eggs, and it delivers sweetness from erythritol, monk fruit and stevia extracts. Mouthfeel and body are further developed with tapioca fiber, vegetable glycerin, and gums. A half-cup serving sets you back 170 calories, but only 10g total carbs, 2 grams sugar, and 3g sugar alcohol. Not sure the guts could handle mindlessly eating a whole pint, but you probably shouldn't do that with any brand (ahem…).
Cold Brew
I've spent the last three years in the cold brew space, so I have a pretty keen sensitivity to what's going on in that world. From big brands to little startups, cold brew is becoming really crowded – think of kombucha 4 years ago. You weren't a weirdo to drink it, but it was an "acquired taste." Cold brew is generally defined as coffee that is brewed with cold or tap-temperature water for a longer period, and it's believed to produce a coffee that is less bitter and cleaner in flavor profile and coffee flavor delivery. It's also higher in caffeine, because the water-soluble molecule has more time to dissolve into the matrix.
There weren't stand-outs per se, because I'm pretty particular about the coffee intensity and identity, the format, and the mouthfeel. A lot of the products on the market seem bland and watery or overly sweet and oddly flavored.
The cold brew category is also getting busier, with big brands joining the party and quickly pushing some of the smaller but arguably more innovative brands to the side. A recent BevNet article outlined a few of the significant brands buying into the ready-to-drink category, including a Starbucks-PepsiCo distribution deal, the Coca-Cola partnership with Dunkin' Donuts, and JAB's holdings of FORTO, Peet's and Stumptown. Whenever I see a new RTD cold brew, I buy it and taste it. Sometimes I drink the whole thing, but I usually end up just trying a few sips and moving on.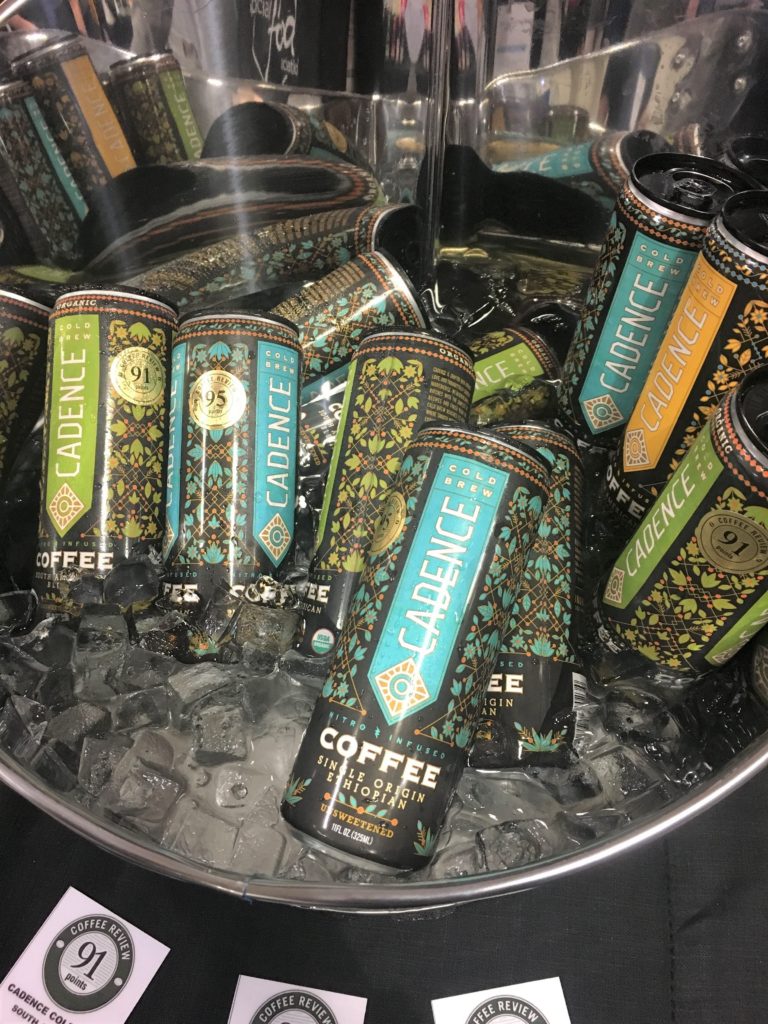 Collagen protein
Remember when your mom/grandma used to tell you to eat chicken soup to have glossy, strong hair? I don't either, but it is apparently partly true. One of the components that helps your body's tissues stay healthy and strong is collagen, produced in broths that involve cooking animal bones (usually chicken or cow, but now expanding into fish and even jellyfish). A popular study from the Journal of Agricultural and Food Chemistry is often cited as supporting the claim that dietary hydrolyzed collagen can have benefits for the skin, hair, and nails.
Hydrolyzed collagen and less processed edible gelatin are both extracted from processing the fibrous protein from animal connective tissue, primarily bones, hides, and hooves. Bone broths get their rich mouthfeel from the long gentle simmer of animal bones. Consumers can buy it in powdered forms to add to their products, and now CPGs are available that put the hydrolyzed collagen powder into finished products for them.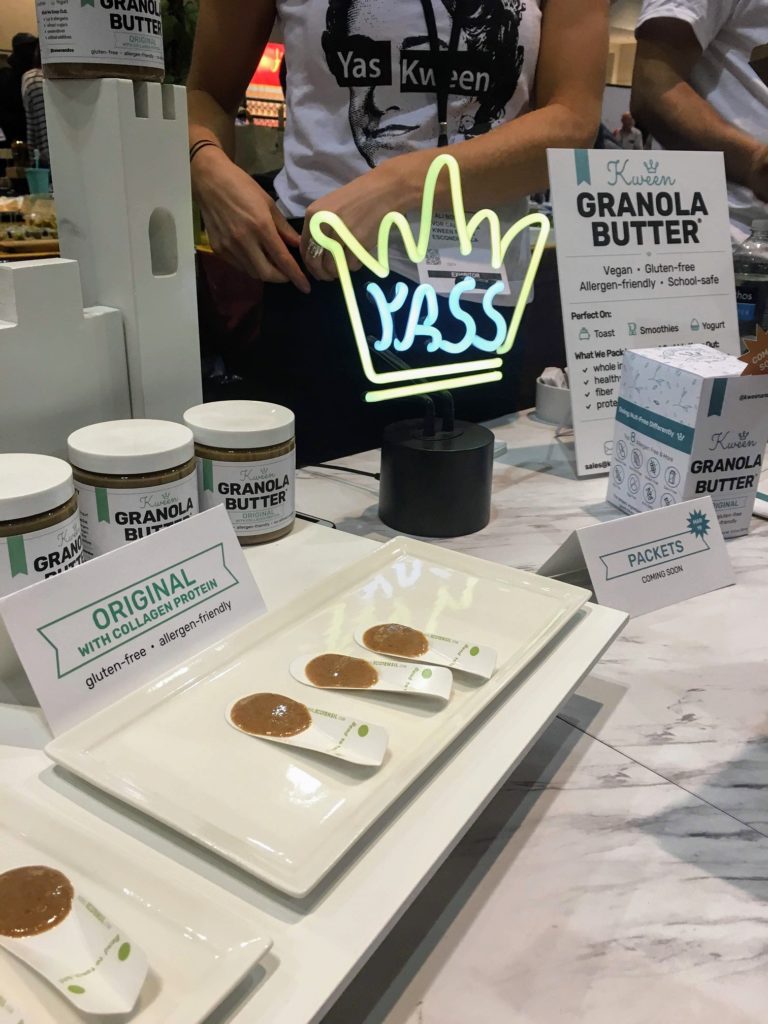 A creative application that I spotted was the incorporation of collagen into a speculoos-like product called Granola Butter, a spreadable granola, by Kween. It's made from gluten-free oats, flax, olive oil, coconut oil; sweetened with maple syrup; and fortified with collagen protein. It's primarily found in natural grocery stores but do appear to have some decent distribution across the nation, albeit in specific types of stores.
The Winter Fancy Food Show was very interesting and a parade of new flavors and creative mash-ups. It's a place to find entrepreneurs hustling and sharing their products, salespeople seeking opportunities, and buyers curating their categories.
Summer Fancy Food is coming up in June 23-25! I have been invited to give a talk at the "What's the Big Idea?" series. Register for the event here and see you at Summer Fancy Food in New York City!